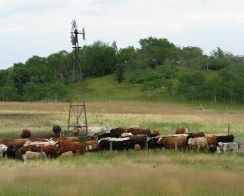 Every year over 40,000 cattle and horses owned by over 350 producers graze on Manitoba community pastures.
Advantages include:
· Great program for younger producers with smaller herds
· Animal care provided
· Fence repair included
· Staffed by experienced riders and managers
· Producer-managed
AMCP was fortunate to retain most of the former PFRA employees who have considerable years experience in animal husbandry, sustainable land management and operating community pastures.
AMCP operates the following community pastures: Alonsa, Bield, Birch River, Cote-San Clara, Ellice-Archie, Ethelbert, Gardenton, Langford, Lenswood, Libau, McCreary, Mulvihill, Narcisse, Pansy, Spy Hill-Ellice, Sylvan-Dale, Turtle Mountain, and Wallace.
2024 Deposit Fees

A deposit fee of $70 per adult head of livestock is required by February 28. Returning patrons that have not paid the deposit fees by the due date will be charged an additional penalty of 5¢/head/day to the grazing fee for the grazing season. The penalty fee can be avoided with a timely deposit payment.
2024 Grazing Fees
90 cents/day for yearling cattle, mature cows, bulls, mares, stallions. * Minimum 100 days.
Calves: $55/head walk in and pasture born (seasonal fee).
Rate schedule for sundry
Castration < 6 Months: $10.00 per head
Castration > = 6 Months: $15.00 per head
Branding: $10.00 per head
Dehorning: $15.00 per head
Mustering fee: $2/head; $40/hour (once in corral) per staff (this charge is for client requests only – not applicable to take out).
Medication: at cost plus a 2% handling fee
Vaccination: at cost plus a 2% handling fee
Mineral and salt purchased by AMCP: at cost plus a 2% handling fee
Mineral or salt purchased by local pasture groups will be determined by their local PAC
Important Dates
November 1 – Grazing application for the following year is due
By end of January – Letters sent to Patrons informing them of their allocation with request for deposit
February 28 – deposits are due
May 21 – June 15 – Livestock taken in
October 1 – 30 – Livestock taken out and final payments due. Cattle can be withdrawn earlier, a minimum 100 days grazing charge will be applied.
Breeding
AMCP does not supply bulls. Bulls must be supplied by the patrons or rented from another patron.
Manitoba Applications for Registration of a Brand are available at this link:

http://www.manitoba.ca/agriculture/permits-and-licenses/pubs/applybrandregistration.pdf